Introduction
Data based decision making – End of Year Review Survey
YouTube as a support (simply type what you require help with)
Email – not the best or only means of communication (Recommend 5/10minute Teams/Zoom call daily/weekly, etc – far more effective means of communication)
Zoom (Web Conferencing – app must be downloaded and installed)
Observation – plan your class beforehand – advanced features such as poll to register attendance.
Tablet and Digital Pen – Demonstration (demo videos recorded and uploaded to YouTube)
Schedule a meeting – Email link to students or paste link to Moodle
Sharing screen/Whiteboard/etc during Zoom session
Recording videos with Zoom and uploading to YouTube channel (Storage space limited on OneDrive and video files can be large)
Host an immediate meeting without need to schedule

Office365 Apps (MyAnalytics, Outlook, OneDrive, Excel, Teams, etc)
Outlook (Calendar, ToDo, etc)
Calendar (ideal for scheduling Teams meetings
Email – Reply to All (Danger!!)
ToDo list (click once complete)
OneDrive (icon bottom right side of taskbar – blue is signed in/grey is not)
1 File Management – Numbered folders – Demo my file structure
2 Sort by Name – Compact List or Tile Mode
3 Create Word/Excel docs and upload/download docs to folders on OneDrive/Laptop (drag and drop from min/max/reset window icon in top right corner)
4 Creating PDF file using OneDrive app https://youtu.be/D8pwxwKITOE
5 Cropping a photograph for PDF https://youtu.be/cyMMDRkxHxs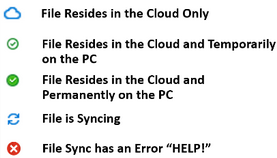 Green circle with tick – right click "Free up space" file stored in cloud to save space on your device.
Green disc – right click file on your device and select "Always save on this device"
Excel
Ideal for attendance (cloud based White Roll book)
Demo Class Attendance log used 2019/2020 (attendance/feedback/assessments)
New Excel Form (create in a folder, share with staff and view responses)
Teams
Admin required to create a team, add members, etc
…
…
Videos